SCHEFFEL UND BRÜNNECKE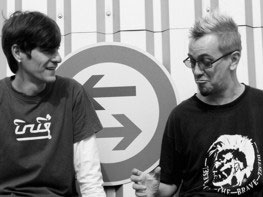 Scheffel & Brünnecke / Elster-Records
Always when something comes out off this small town on the river "Elster"(engl.: magpie), its one of these exiting moments. Beyond of all skepticism, Gera has brought up a lot of creative people. some moved to other citys, some remained. Scheffel & Bruennecke belong to those, which remained.
The one:
Thomas Scheffel started 1988 as a Bassist in within a group of friends during his professional education. 1990 his first synthesizer – a Casio CZ-5000 – finds a place in his room. From now on the direction was clear. Very soon a computer and various sound generating devices completed his equipment to manifest his musical style between House, Techno, Jazz and Breakbeat and up to symphonic orchestral sounds. He produced soundtracks for computer games and movies, developed long running jingles for the legendary radio station "Evosonic" and even produces VST-instruments and audio effects. Historically valuable are his performances as a MC at party's and After Hours. ;-D …
Without auxesis you can say that his studio is his home.
The other:
Andreas Bruennecke aka Andy Bie, started as a drummer in a Grindcoreband and discovered in 1994 after 2 years on his drum the elemental force "Techno" and all its facettes. Playing House in the beginning, he developed his style more and more towards more straight, later minimal Techno. After pursuing 8 years continuous and often successful to organize and establish own House Party's in Gera he brought to nearly every regional party of festival new sounds to the open minded party crowd. Finally he found his passion in a virtual studio where he concentrated on the production and development of rhythmical, clear and technoid sounds.
Andreas and Thomas knew each other but had different musical career. So the years passed and both made its own experiences with the music. One as a producer with focus to sound design, harmonies and composition, the other as a DJ with preference to minimal sounds. What we talk here about, are two ingredients, which give together a very explosive mixture. As the legend says, the both met each other accidentally after long time in summer 2004 in the main post office in Gera and decided spontaneously to work together, to form a very fruitful musical unit. The target was not to produce technoid NuJazz sounds or broken Schranz beats but the finest, danceable and melodic sound mélange which leaves it to the listener to decide in which musical direction he wants to sort this music.
A fact is that this kind of music – once consumed – has a high potential to addiction.