ELSTER 03
Douglas Greed – Molloy EP (Elster-Records| Elster 03)
copyright © 2007 Elster Records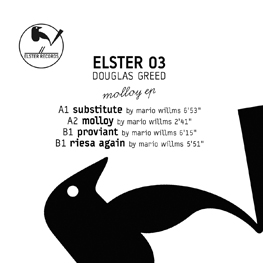 After some releases on Combination Records and Freude am Tanzen, Douglas Greed aka. Mario Willms returns, on his hometown based label. Here in Gera he started his career as DJ and promoter of Drum´n´Bass Events. Over the years he evolved over different influences and experiences to the minimalistic and technoid Douglas Greed. Since the beginning of 2005 – meanwhile living in Jena – he published various releases, which earned a lot of attention. On Elster records he continues his way and pleases us with four well balanced tracks full of darkness, sensitivity and a devotion to dance!
A 1: Substitute (written & produced by Mario Willms)
With the opener Substitute he developed a well balanced piece of music with exiting moments and lovely strumming melodies. A grooving bassline forms the basic structure for the pads , which work from the first second on in the background of the Track and being so attractively that you may easylie fall into a state of trance. In the further process the play of Chimes starts, whose individual voices, contrapuntally merged into the bass run and prepare your ears and feet to get euphorized.
A 2: Molloy (written & produced by Mario Willms)
Something experimentally, but nevertheless breathe-actively and pleasing he gets down to business with number two on side A. The influences from Detroit to Autechre´ become here clearly apparent and together with a pinch of Bolero lend them a completely special touch off goose skin feelings to the track. Perfectly suitably to end the weekend!
B 1: Proviant (written & produced by Mario Willms)
Proviant is more one of the dry sort, whose subliminal property to groove, is based on the basic module of entertaining kickdrums. A fluttering clap in delay decorates the pulsating beat so well, that all approaches of dark pads and sounds fit immaculately to it. In the overall view this track is not to underestimate, especially during the startup of a set!
B 2: Riesa again (written & produced by Mario Willms)
Propulsive, combustible and 100% dancable, what else to say? The final track is probably the most dancefloor suited appearance of the new Elster and captivates with its hypnotism to the fullest. After the introduction a dark, but nevertheless moving bass figure steps in and determines the direction up to the peak of the track, where a disturbing pad setup itself and turns the suspense parameter completely upward once again!
Feedback:
DE:BUG:
Douglas Greed – Molloy EP (Elster Records / 003)
Eine der ungewöhnlichsten spannendsten dunklen Minimalplatten des Monats dürfte diese hier sein. Die Beats sind fast nur noch Schatten ihrer selbst auf "Substitue" und die Sounds so voller unheimlicher Spannung, dass man schon vorbereitet wird auf die Soundscapes von "Molloy" die das noch weiter in eine Richtung treiben, wo man auf den Beat verzichten kann und nur noch in den nebeligen Sounds sucht. Die Rückseite ist etwas direkter aber dennoch extrem staubrein und mit zwei perfekten Minimal Noir Tracks gespickt.
http://www.elster-records.de
bleed