THOMAS SCHEFFEL a.k.a. THOMASCH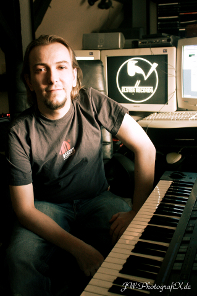 Thomas Scheffel started 1988 as a Bassist in within a group of friends during his professional education. 1990 his first synthesizer – a Casio CZ-5000 – finds a place in his room. From now on the direction was clear. Very soon a computer and various sound generating devices completed his equipment to manifest his musical style between Techno, House, Jazz and Breakbeat and up to symphonic orchestral sounds. He produced soundtracks for computer games and movies, developed long running jingles for the legendary radio station "Evosonic" and even produces some custom-made VST-instruments and audio effects for own purposes. Historically valuable are his performances as a MC at party's and After Hours. ;-D … In 2005, he founded the small recordlabel Elster-Records, together with Andreas Bruennecke.
Without auxesis you can say that his studio is his home.
Thomas Scheffel startete 1988 in einer Lehrlingsband als Bassgitarrist, um sich 1990 seinen ersten Synthesizer – einen Casio CZ-5000 – an Land zu ziehen. Die Laufrichtung war klar: der PC und diverse Klangerzeuger kamen dazu, um schließlich seine musikalischen Koordinaten zwischen Techno, House, Jazz und Breakbeat, bis hin zu symphonisch orchestralem Sound, zu manifestieren. Er entwickelte Soundtracks für Spiele und Filme, produzierte langzeitig rotierende Jingles für den damals legendären Radiosender "Evosonic", und entwarf sogar für eigene Zwecke maßgeschneiderte VST-Synthesizer und Audioeffekte. Als geschichtsträchtig dürfen gern seine diversen MC-Auftritte bei Party..s und Afterhours gewertet werden ;-D… Zusammen mit Andreas Brünnecke gründete er 2005 das kleine Plattenlabel Elster-Records.
Es kann ohne Übertreibung behauptet werden, daß sein Studio sein Zuhause ist.