ELSTER 00
Peter Schumann – delicate issue EP (Elster-Records | Elster 00)
copyright © 2007 Elster Records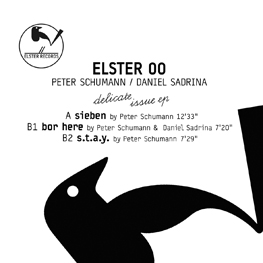 "delicate issue" by Peter Schumann is the firstborn of Elster Records, Gera. Peter Schumann was born in Gera in 1976 and has been living in Frankfurt since 1998.
The most recent release was Ric, his contribution to the Traumschallplatten compilation Intercontinental 4. One year earlier he worked together with Benjamin Fehr for the Frankfurt label Catenaccio. Now he is the first one to publish on his hometown label.
A: sieben (written & produced by Peter Schumann)
The long side belongs to sieben!
A small minimal mover, giving a dimly impression at the beginning rolls up with a kicking bassline. Good sound selection loosens the density and makes the track sway, so the chill disappears leaving the tune to redefine itself. Charming elements have their say up to the point where the serious atmosphere of the beginning returns and the track draws to a close.
B 1: bor here (written & produced by Peter Schumann & Daniel Sadrina)
The opener on the b side came to life in cooperation with Daniel Sadrina. Super dreamy and gentle to every ear! This track seems to be shuffling at first but it is not living up to it. A subliminal bassline serves as an opening. Freaky sounds and an efficient thread cause this weird impression which makes the tune appear drowsy in the end. An easy track beaming with contentment and calmness, telling you: life´s fun!
B 2: s.t.a.y. (written & produced by Peter Schumann)
The last piece s.t.a.y. also belongs to the category minimal grooving.
A tightly produced bassrun, matching sounds bringing forth variety and a melancholic mood: this beauty with its open spaces of solitude is just the perfect early morning companion.
Feedback:
Peter Schumann – Delicate Issue (Elster-Records / 000)
Peter Schumann kennt ihr villeicht schon von Cantenaccio oder der letzten Traumcompilation. Hier sind seine Sounds noch mal um einiges ausgefeilter und er nähert sich im Stil fast stellenweise schon komplex verdrehten Cutupfunk wie Ultrakurt oder manchem auf Krause, manchmal aber geht es auch noch um das Finden des eigenen Grooves. Aber Schumann ist auf dem Weg, zu einer echten Referenz zu werden.
bleed